IK Multimedia iRig STOMP is now shipping
The first stompbox-style guitar and bass interface for iPhone/iPad
September 6th, 2012 - IK Multimedia, the leader in mobile music creation accessories and apps announced today that iRig STOMP, the first guitar and bass stompbox-style interface for iPhone/iPod touch/iPad, is now available from retailers worldwide and the IK Multimedia online store.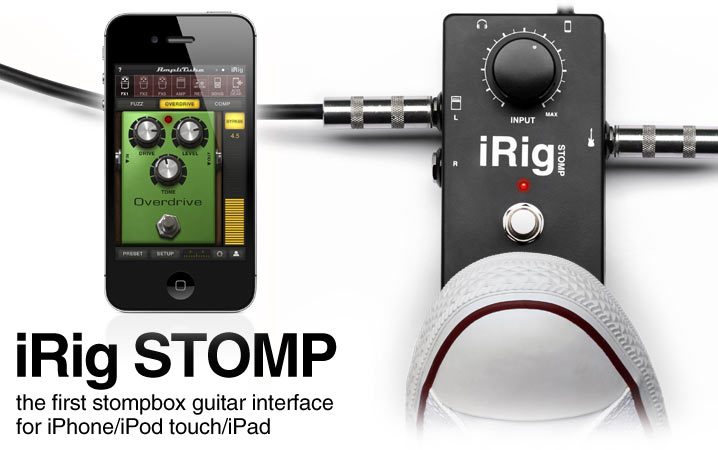 iRig STOMP is the first stompbox-style guitar and bass interface that fits right in with your existing pedalboard allowing you to connect your instrument to your iPhone/iPod touch/iPad and incorporate your mobile amps and effects into your live rig. It's based on the wildly-popular AmpliTube iRig interface which has sold over half a million units to date. The advancements made in iRig STOMP revolutionize the way you connect your instrument to your iPhone/iPod touch/iPad with multiple, intuitive features that make using an iOS device in a live setting easy and fun.
Small Footprint – Big Features. At a glance, iRig STOMP is a very familiar shape and size – approximately 11 x 6 cm – about the size of a standard compact pedal.  However, it's perhaps the most sophisticated stompbox in the pedalboard. iRig STOMP features a device jack that routes your signal to your iPhone/iPod touch/iPad and returns the signal to the main output and/or headphone jacks. It also has a huge "gain" knob to  easily and quickly set your input signal to its optimum level and take full advantage of the sonic nuances of award winning apps such asAmpliTube, AmpliTube Fender or AmpliTube Slash live on stage, plus it includes a bypass switch to completely bypass the signal processing like a regular stompbox pedal.

Solo or Inline – Flexible Signal Routing. iRig STOMP has many intuitive features for such a compact interface. This lets you to use it in three different ways: with a guitar amp as your effects signal chain and tone shaping front end, inline with your other favourite stompboxes for blending effects during performances, or with headphones for private practice.

Plays well with others. Whether used as a solo tool or with other inline stompboxes in your pedalboard, you'll find iRig STOMP delivers pristine quality guitar audio in every situation. When used with the AmpliTube family of products, iRig STOMP gives you a complete solution for virtually every kind of playing situation. iRig STOMP is also compatible with any audio processing app (such as GarageBand) to provide the best possible audio input quality.
iRig STOMP – Step up to the next generation of Mobile Guitar/Bass Interfaces
Features
Compact, durable yet lightweight, aluminium-cast enclosure integrates easily into any traditional pedalboard.
Can be used inline with other effects pedals or directly connected to amplifiers or PA systems using standard 6.3mm / ¼" guitar cables with no need for adapters.
Large input gain knob provides precise adjustment of the signal for perfect guitar and bass levels.
Active battery-powered output circuit improves headroom, especially when used with high-gain amplifiers in the AmpliTube app, reducing feedback and crosstalk when recording.
The bypass switch allows engaging or bypassing the AmpliTube app chain of effects – like a traditional stompbox – for seamless integration into any existing rig.
Ultra-compact form factor can be easily carried on the road.
Features a 3.5mm / ?" jack for silent practice with headphones.
Includes AmpliTube FREE app from the App StoreSM and can be used with any other guitar processing app that uses the iPhone/iPod touch/iPad mini-jack including GarageBand®.
Pricing and availability
iRig STOMP costs only €44.99 (ex VAT) and is available now from electronic and music retailers around the world, and from the IK Online Shop.